School Mission Statement: "All Will Achieve"
We endeavour to acomplish this by working in partnerships with parents and carers to achieve the very best outcomes for each individual in our learning community.
Kirton Lane aims to provide provide a secure, stimulating and purposeful learning environment that conveys ensures every child achieves their full potential. We aim to create a happy, warm, caring and secure environment for the children, based on respect for others, tolerance and understanding.
LEARNING FOR LIFE
In often fragmented communities, the pressures and expectations on young people are increasing. Kirton Lane Primary school play a vital part in helping young people prepare for the future, developing the skills they need to succeed in a changing world.
Learning for life consists of teaching children skills for Life. These skills, when taught at a young age, are carried through to adulthood and help support an individual's wellbeing. It is also a strategy to bring communities together and contribute towards a better society. But most of all, it's a strategy for our children. They deserve the best skills, the best possible support and the best future.
Kirton Lane promotes our core values in all learning and scenarios. Our core values consist of our keys to success, learning characteristics and Colour Coded qualities.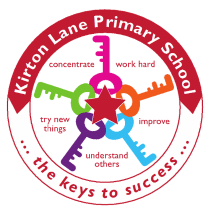 Formulated by the children and parents/carers, our KEYS TO SUCCESS are vital in supporting our vision for Kirton Lane. These consist of the below:
Work hard
Improve
Concentrate
Understand others
Try New Things
Click on the quicklinks at the top of the page to view each success key in more detail.
Personal Social Emotional Development & Relationships
British Values
Spiritual, Moral, Social and Cultural Development
Philosophy for Children
Learning new life skills
Click here to read our Learning for Life Policy
Colour Coded Keys to Success - created by our children
Brave Blue
Resilient Red
Go-for-it Green
Persevering Purple
Proud Pink
Own ideas orange