Year 3 & 4
Our Topic for our first half term together in Year 4 was 'Burps, Bottoms & Bile' and we learned a lot about the digestive system which begins at our mouths and ends when we go to the toilet!!!
Check out some of our speeches designed to persuade you to look after your digestive system!
We also wrote our own 'digestive rap' – watch some of us performing it on our video: how cool are we??!!
It was a very science-led Topic and so we did a lot of investigating and experimenting with Mrs Shackleton. Here are some pictures from the experiment we did to help us better understand what is going on inside our bodies when we eat food – yuk!
As part of our maths during this half term we learned about Roman Numerals and even made some of our own using pipe-cleaners! Can you tell what modern-day number is represented in the photo?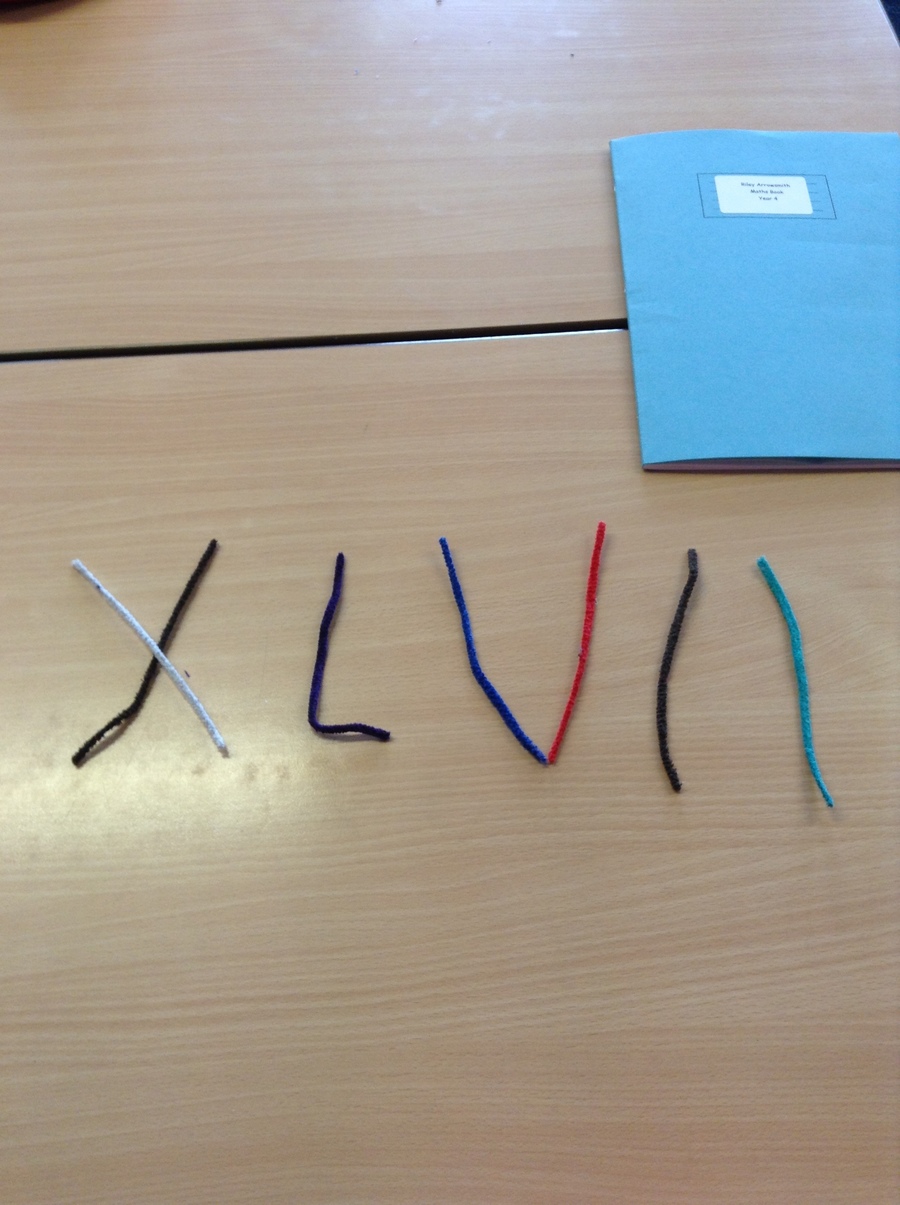 As well as all the learning we did in school, some of us also worked hard at home doing our weekly homework and producing some wonderful Topic-related projects – here's a photo of Lucian with his model of teeth that he made – awesome or what!?!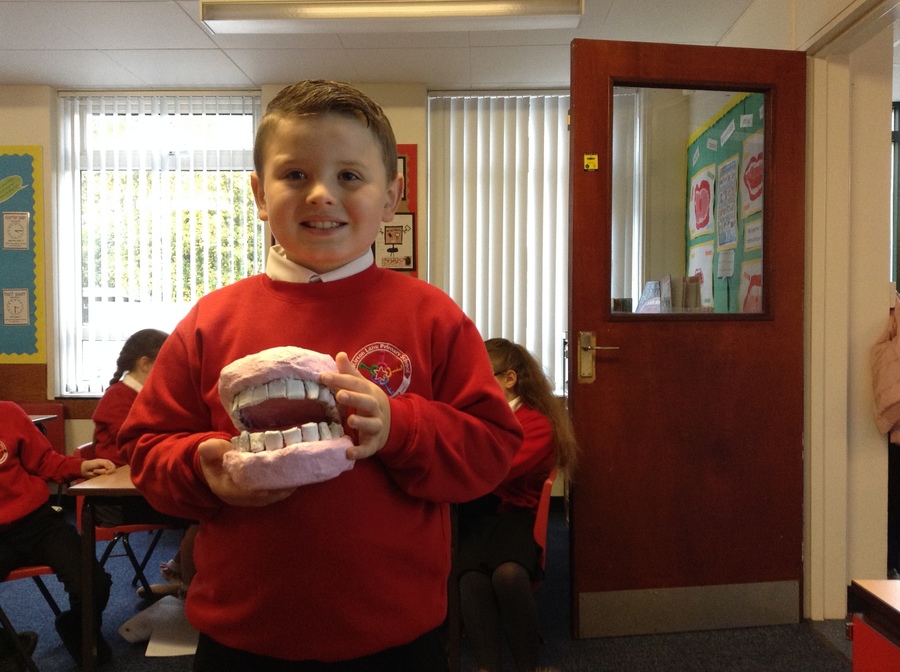 Tremors
This half term in Year 3, we have been exploring the concept of Tremors. They have investigated the Worlds 'Ring of Fire', using atlases and the internet to research where Volcanoes and Earthquakes happen.
Our Role Play area was made into a volcano. A place for the children to became reporters and researchers investigating Volcanoes and Earthquakes around the world.
They children created some fantastic Volcanoes as part of their project homework.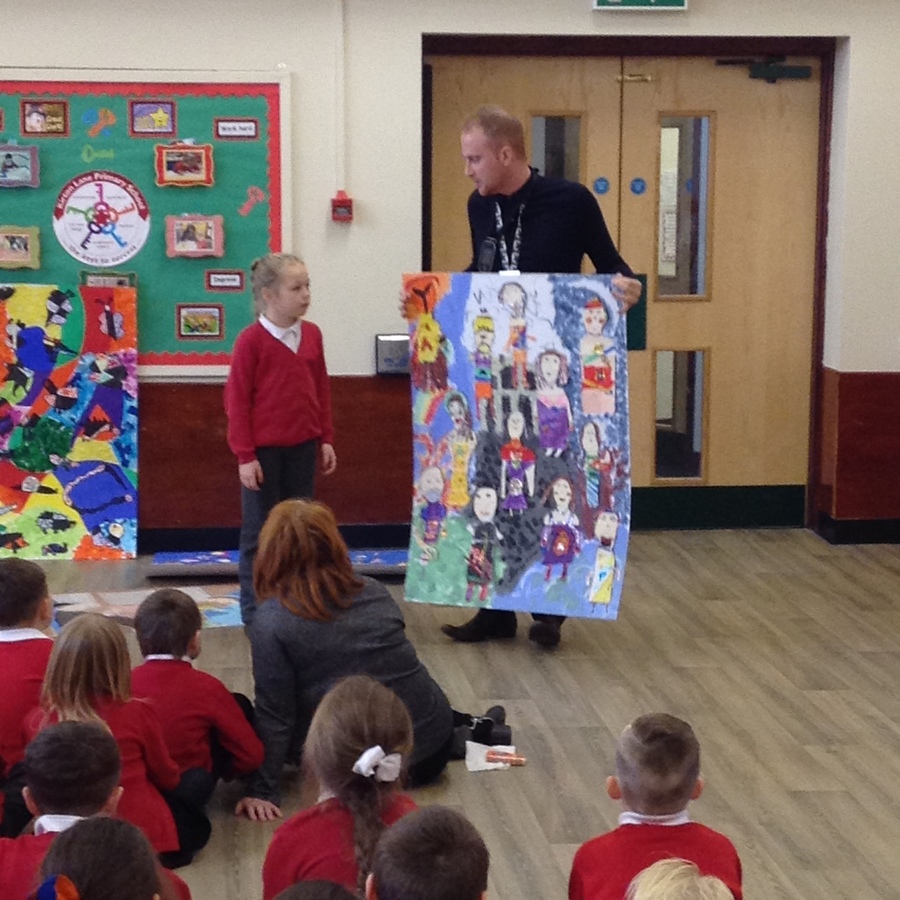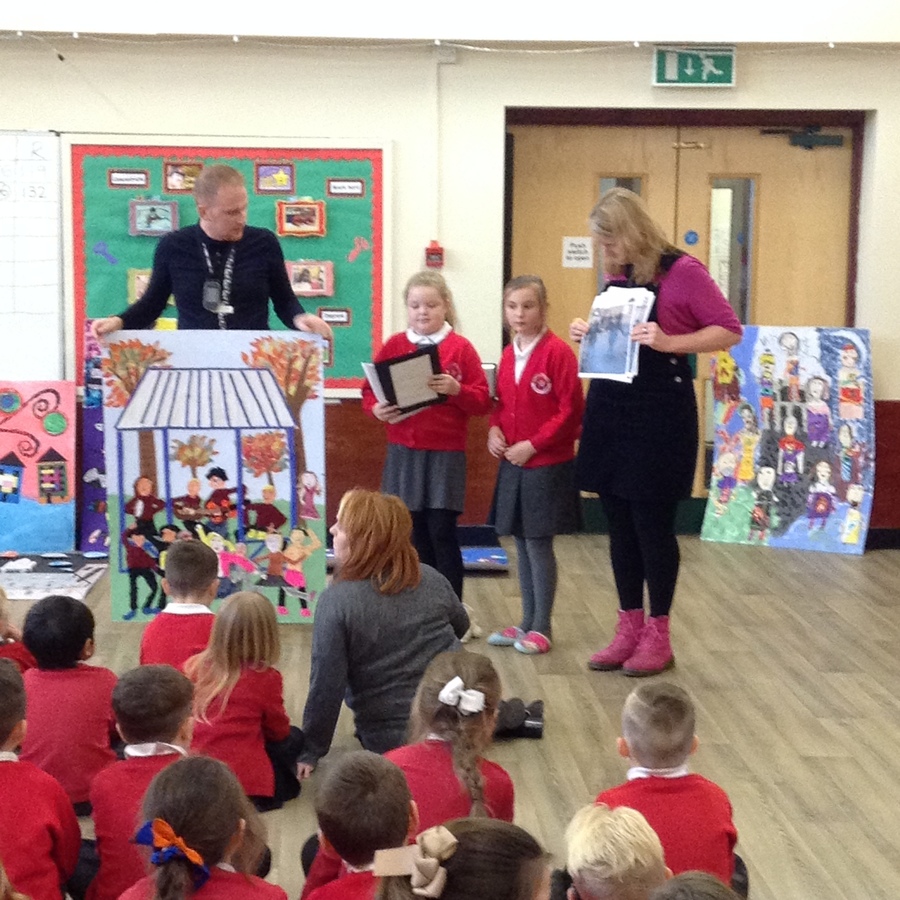 Last half term Year 3 worked very hard in mastering the Ukulele. We have been very impressed with the progress that they have made and we would like to thank on behalf of the children and the school to Mrs Hill from the Music centre in Doncaster. Here are some videos from their Ukulele performance.
Gods and Mortals
This half term Year 3 have enjoyed exploring the Ancient Greeks and the stories and fables they told. They explored how Ancient Greece has changed in relation to today.
The children loved researching the Ancient Greek gods and how they ruled over themselves and the people of Greece. They also explored the mythical creatures of Greece and famous Greek people.
The children designed their own mythical creatures and one child built the labyrinth as part of their project homework.
Year 3 Drama Performances
Throughout last half term, Year 3 and 4 have been having drama lessons. They have all worked very hard in learning how to perform and act in different ways. We on behalf of the pupils in these classes and the school would like to thank Lauren Ash for dedicating her time to making our pupils drama stars. Here are some of the performances that Year 3 did last half term.
This week Year 3 have been learning all about 3-D shapes. Year 3 have worked hard on making different Christmas decorations that replicate a 3-D shape. We had many interesting designs so well done Year 3.
Predators
During this half term Year 3 have explored Animal Predators from around the world. They have focussed on food chains and the environments these animals can be found.
They particularly enjoyed a visit from "Sam's Safari" where they had a chance to touch and handle different predators ranging along all animal groups (reptiles, amphibians, mammals etc.). They were very surprised to discover a chicken is a predator and omnivore. Take a look at some of the pictures below at our visit.
The role play area became a safari.
For their homework project they created their ultimate predator.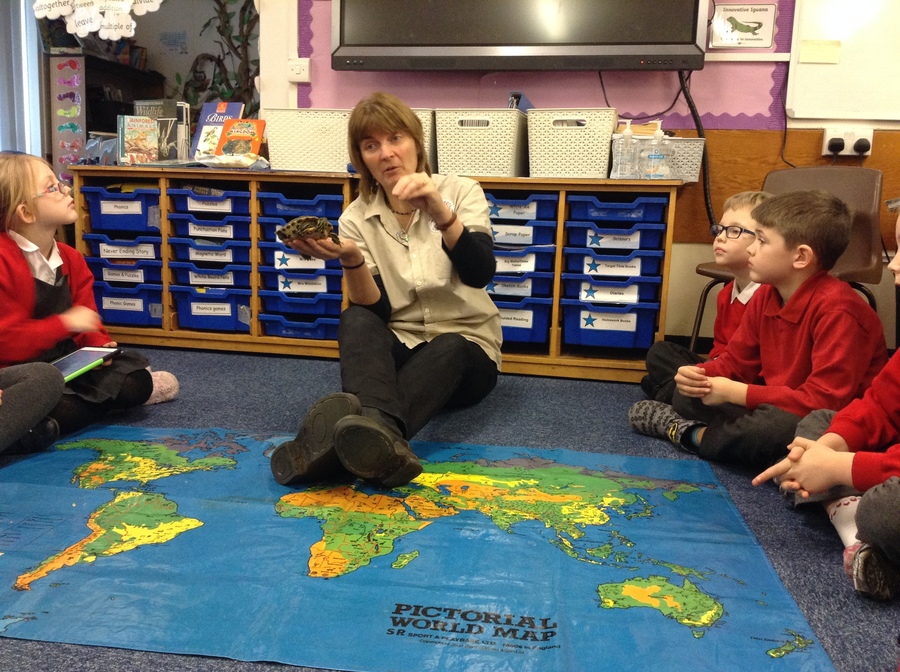 Our Topic this half term was 'Raiders and Traders' so we took a look into the history of Britain and found out what happened once the Romans left our towns and cities in around AD410.
Firstly, we looked into the arrival of the Anglo-Saxons; where they came from, where they settled and what they brought with them. We considered the legend of King Arthur and the Knights of the Round Table as well as some of the 'real' figures of the past. We even spent an afternoon re-enacting the 'Battle of Maldon'.
This led us onto the arrival of the Vikings so we had a look into details such as where they came from, what they brought with them and some of the legends they were fond of. We also started reading a story by Tony Bradman called 'Viking Boy' which we are still enjoying at the moment!
We designed and made some of our own weapons in class with names like 'death-bringer' written on them in Runes! Some of us even made some amazing shields/ weapons at home and brought them in for display. We also designed and made our own Viking brooches and amulets to protect us from harm during battle.
We had many amazing costumes for our World Book Day at school. Thank you to all those parents who helped they children dress up as their favourite book characters.
Thank you to those who donated money to the 'Read For Good' Charity. We raised £109.50 which is a fantastic achievement! Take a look at our two best dressed pupils in Nursery and also have a look at the pictures below, see how many characters you can spot...
Welcome to our newest After-School Club of 2018 The Sewing Club. Mrs Oxley and Mrs Chesters have taken their time to train 12 of our Year 3 and 4 students in the art of Sewing. Their first project was to design a keyring as a Mothers Day Gift. Check out some of our pictures of our cool designs!
Heroes and Villains
Year 3 during this half-term, have enjoyed exploring fictional heroes like 'Cruella de Vil' from the story 101 Dalmations. They loved creating their own super persona has part of the 'Teacher in Role' project.
The children also have explored real heroes from history and today. These have included: Nelson Mandela, Grace Darling and sports heroes of today.
Our Topic this half term was 'Potions.' We followed Alice down the rabbit hole and into Wonderland. Boy, did we have some strange adventures – especially when Lauren came in on Tuesday mornings to do drama with us!!!
We looked into the labelling on bottles of household products and discovered the meaning of some of the symbols they use. We designed our own bottles for a love potion and some of us even made our own for homework! Would you want to drink any of them???
A company called Croda also visited us during this half term and helped us investigate bubbles and foam! That was good fun as you can see!
None of us was brave enough to drink from the bottle that appeared in class, however we suspect that Miss Fraser may have had a sip as she seemed to keep disappearing then reappearing somewhere else! Curiouser and curiouser…
Scrumdiddlyumptious!
This half term has involved exploring food! The children have created healthy food plates and research where food comes from. They enjoyed drawing and feeling different fruits and vegetables.
They have enjoyed exploring the story 'Charlie and the Chocolate Factory'. They created their own characters to go and visit the factory.
Our Super Learning Week began with all the children entering into Kirton Lane Airport with all their luggage and passports ready to jet off to their destinations. All classes then were assigned their own gate number after having been through Mrs Eccles at passport control and security at the door upon arrival by Mrs Middleton. All bags were checked and they all jetted off to their destinations.
On Monday afternoon Year 3 and Year 4 had a visitor from Primary Workshops named T. Arthur-Stubbs come in to teach us how to do an Australian Dance. They watched how to do it and practiced during the week to then perform their dance in front of the school. Take a look down below and tell us what you think of our Australian Dance.