Year 1 & 2
We have had a very exciting first half term in Year 1 and have settled in to a new routine really well. We've been getting better at writing by learning about the importance of capital letters, finger spaces and full stops. As well as this we have also been learning how to spell more accurately by remembering when to add -ed to the end of a word. In Maths we have been practicing counting in 2's, 5's and 10's and learning how to add numbers together using pictures to help us. We have also been getting used to learning Phonics in a different way with some help from Fred the frog and this has had a great impact on our reading.
This half term our topic was all about 'Superheroes' and as part of this topic we have been learning about why Florence Nightingale was a real life hero, testing our super sense of taste to recognise different foods, learning about healthy foods and using this knowledge to design a super healthy smoothie and working with a partner to design, make and race a superhero super car. Miss Wilson has also really enjoyed looking at the fantastic homework projects that were completed this half term.
Watch this space to find out what we have been learning about for our next topic, 'The Enchanted Forest'...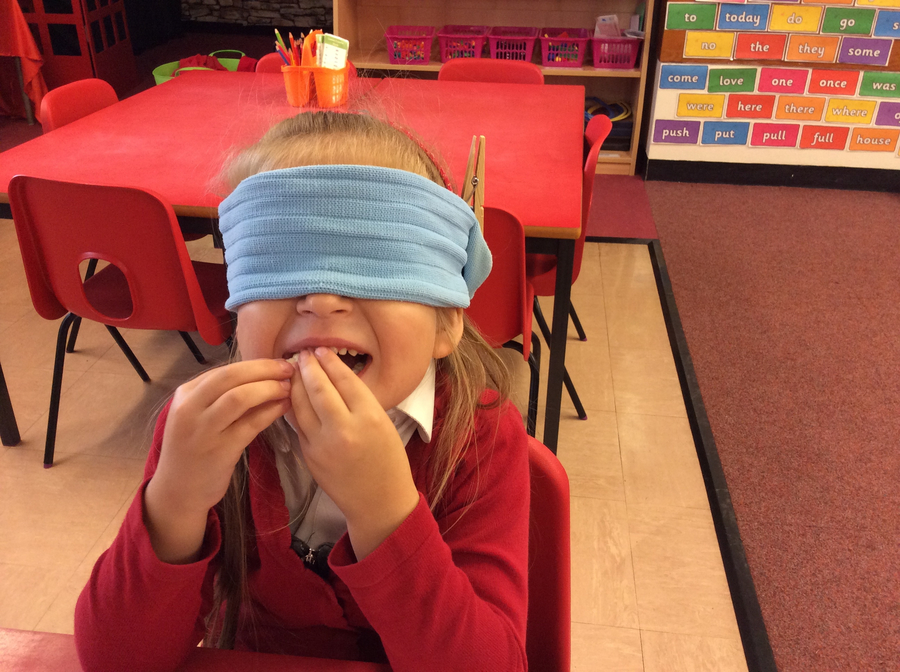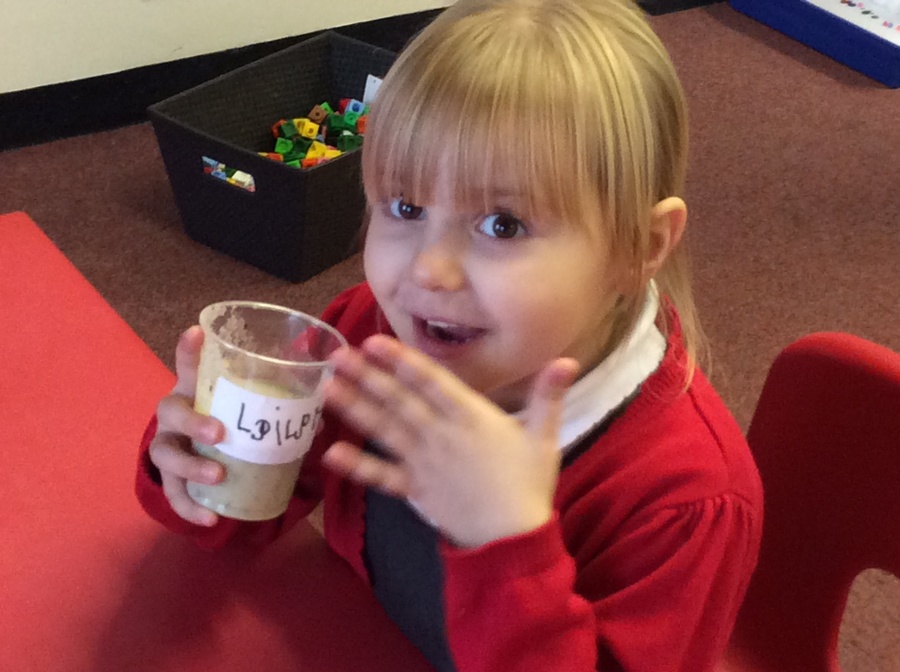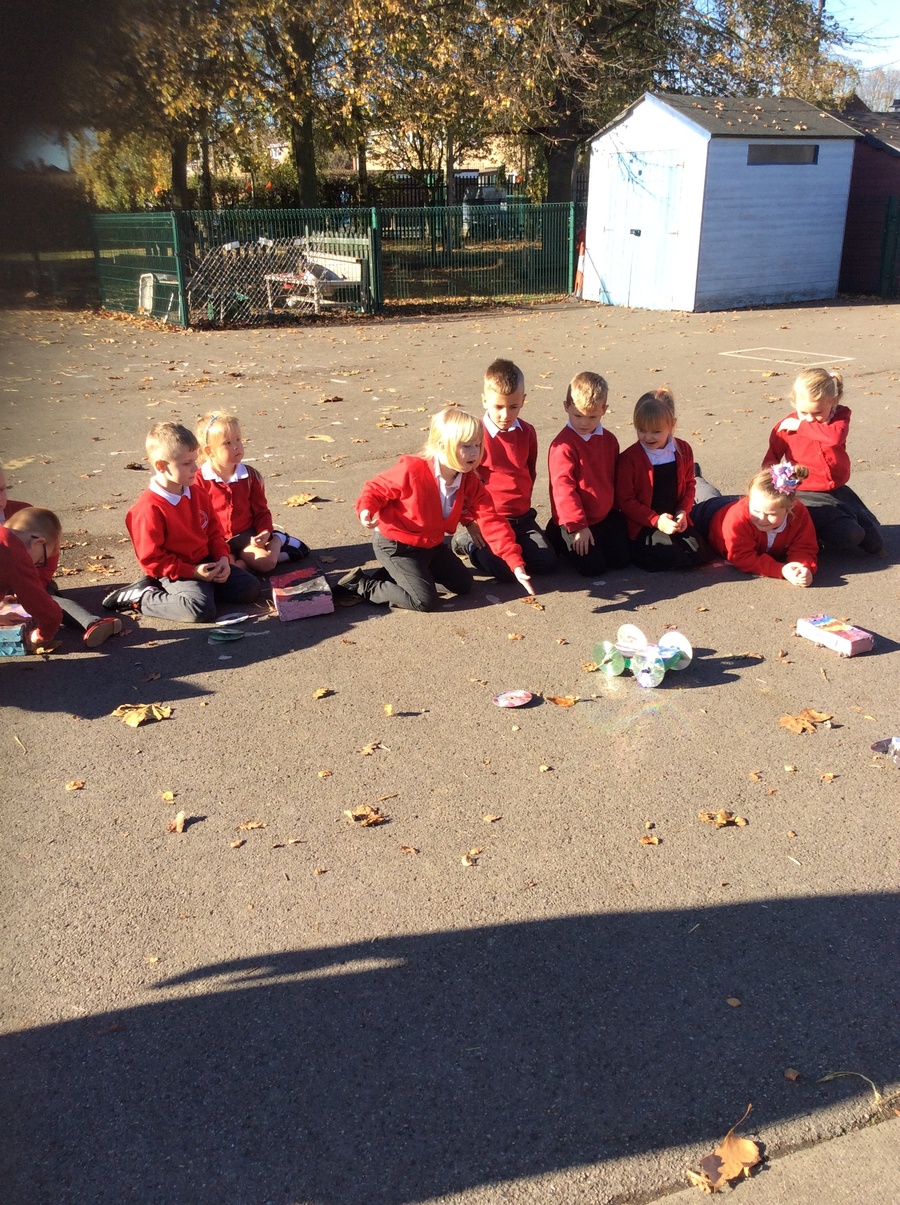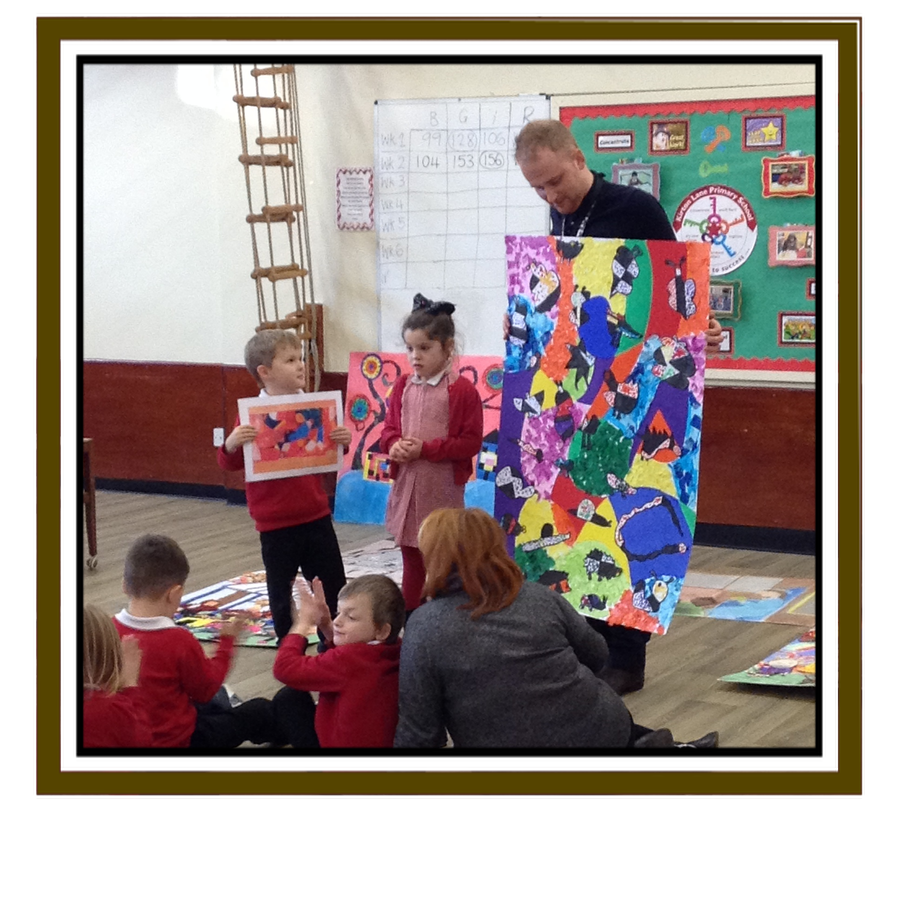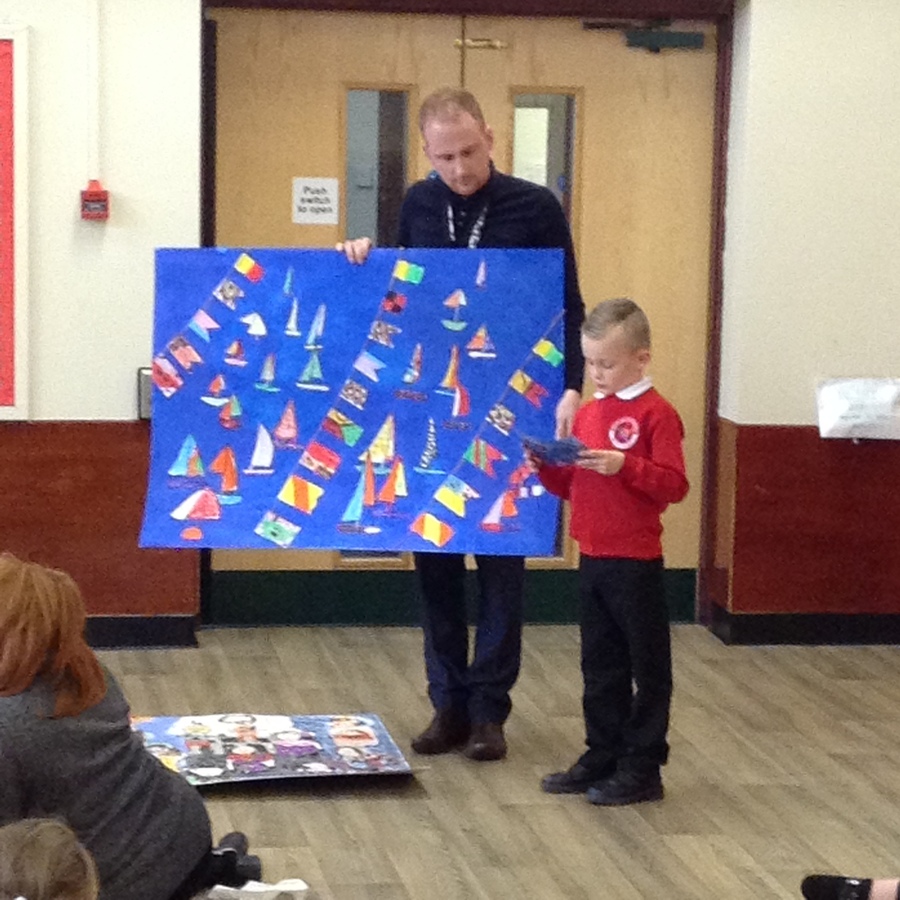 A very special well done ...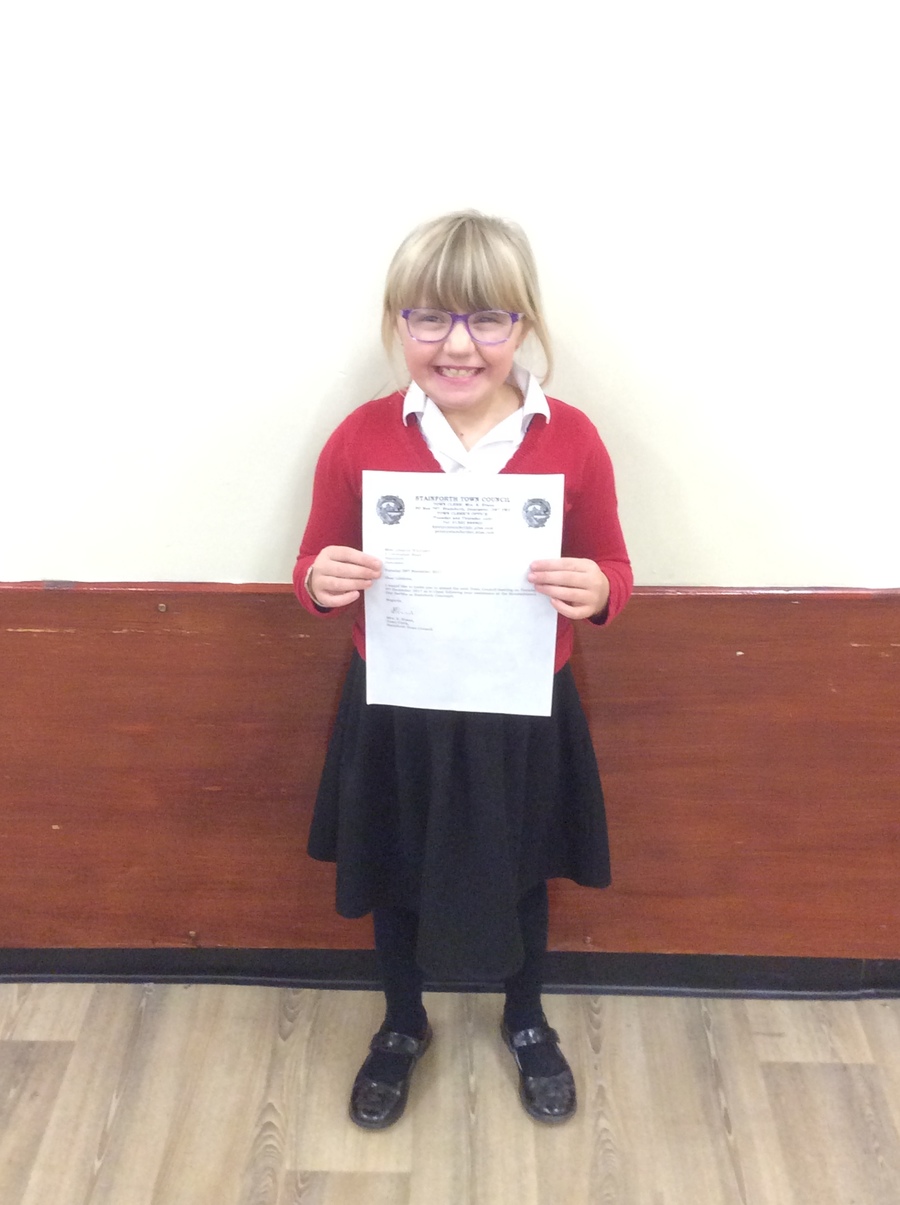 This week Year 1 have been working on measurements figuring out different quantities of ther reindeer food in which Santa had delivered.
Year 2 on the other hand have been working on symmetry and how using paint we can create different lines of symmetry to decorate their Christmas decorations.
Santa visited to Kirton Lane !!!
Santa visited our school and gave the children in Years 1 and 2 each a present. They had to keep an eye out to make sure his reindeers didn't escape from the roof.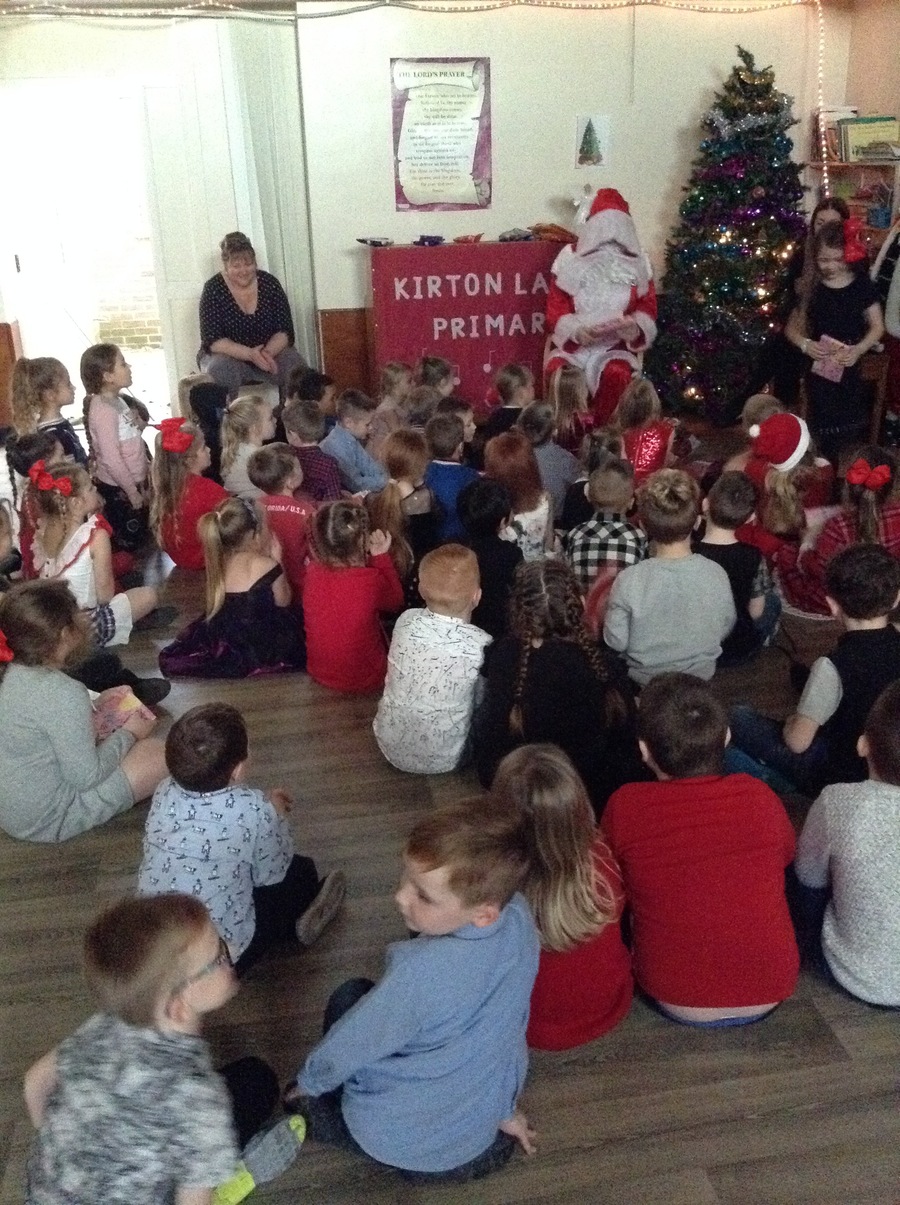 'Towers, Tunnels and Turrets'
Spring One has seen Year 2 settle well with Mrs Mills as their new teacher whilst Miss Metcalfe has gone on maternity leave. Our learning has been based around the topic of 'Towers, Tunnels and Turrets'. Using 'The Tunnel' by Anthony Browne, the children explored their senses to help them write an alternative ending to the story. We thought a lot about adjectives to make our writing interesting. Our classroom was visited by a Knight! He left his shield for us to look after for him, as well as letters telling us about his life and his role in society. Our writing was very impressive!
Our children are enjoying our daily Read, Write, Inc. sessions and are extending their knowledge of sounds, as well as reading more confidently every day!
Maths
In Maths we have been practicing our column method for calculations involving addition and subtraction. We have been learning how to multiply and divide too, and have learnt different vocabulary associated with this. We know the difference between grouping and sharing. Each week we are practicing our arithmetic skills.
We have been looking at different types of castles and how they changed through history. We can now recognise parts of castles including battlements, moats and drawbridges. Using the computers, the children researched famous towers from around the world and in science we completed the investigation 'Can you make a paper bridge'? Lots of group work and perseverance was needed!
Many fantastic home learning projects were completed this half term – our classroom has looked wonderful! Thank you for all your efforts in supporting your children with these.
Literacy
Our literacy focus for this half term has been James and the Giant Peach by Roald Dahl. Using Talk4Writing we created our own versions of chapter ten of the famous book, inventing new fruits to explore and different mini-beasts/animals to go with our main characters on an adventure. During this half term we also celebrated World Book Day as our children all came dressed as their favourite character. Our interest in the creatures we found at Potteric Carr led on to non-fiction writing where we practiced our research skills on the IPads before creating beautiful work about a chosen mini-beast. This showed off how much our handwriting has improved!
Maths
In maths we have focussed on the value of money and how to make amounts of money using different coins. We developed our understanding of the names and properties of 2-d and 3-d shapes as well as using our ICT skills to create different styles of charts (bar, tally, line, pie) after collecting information from the children in our class.
Science
Science has been a big focus this half term as we have explored both human and animal lifecycles. The children learned about how they have changed since they were babies and considered what they will be able to do when they grow older. We also learnt about how our habitat and environment is affected by our lifestyles and what we all need to survive. In art, the children showed that they were concentrating crocodiles as they produced some beautiful art work taking time to use different patterns, lines and effects on their work. our enchanted garden role play looks amazing with their creations on the wall. The children really enjoyed making flapjack. We learnt about the lifecycle of a bee which led us to thinking about where our food came from and how foods are made. We got very sticky but enjoyed every minute!
Wiggle and Crawl
This half term began with a brilliant visit to Potteric Carr Nature Reserve to investigate life cycles and mini-beasts in their habitats. We had an amazing time learning how to pond dip, finding out about what different animals eat and how they survive and discovered many amazing facts about lots of tiny creatures. We also had a try at bird watching, but we had to be extremely quiet! Using our geographical skills we recognised the differences between physical and human features in an environment too.
Check out all our pictures from our trip below...
Year 2 School Trip to Potterick Carr
We had many amazing costumes for our World Book Day at school. Thank you to all those parents who helped they children dress up as their favourite book characters.
Thank you to those who donated money to the 'Read For Good' Charity. We raised £109.50 which is a fantastic achievement! Take a look at our two best dressed pupils in Nursery and also have a look at the pictures below, see how many characters you can spot...
In Year 1 and Year 2 we all had an afternoon having our own Tour De Yorkshire. We had watched Stage 2 of the Womens Race go through our home town of Stainforth, we was so excited we decided to have some races of our own.
We held a Sports afternoon where we had races of our own.
Check out some of our videos and pictures below!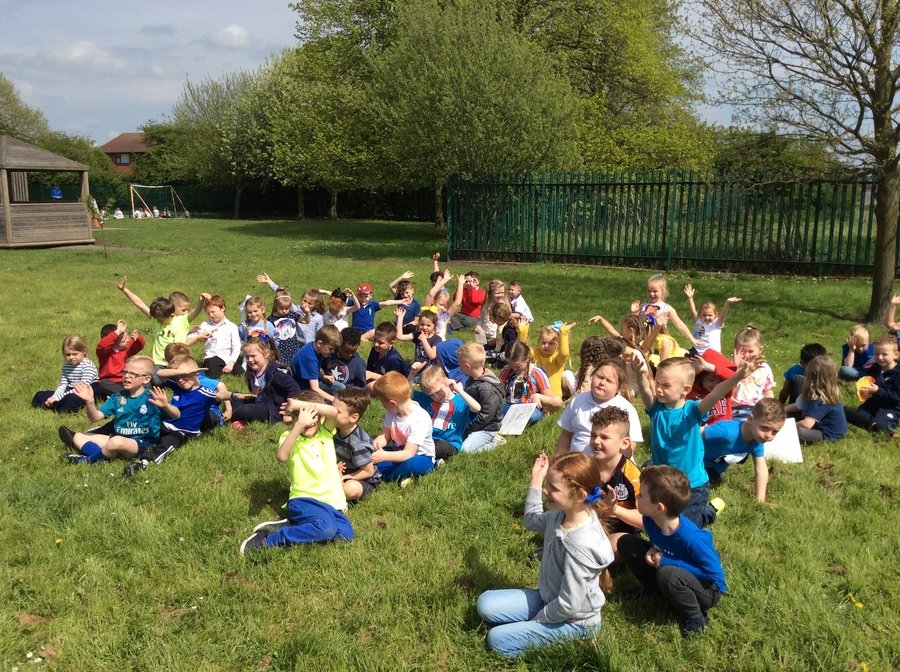 The Scented Garden
The children have been amazing mathematicians this half term by learning about fractions. We can now find fractions of shapes and of amounts, including ½, ¼, 1/3 and 2/4 and ¾ of amounts. Using an analogue clock we have been practicing telling the time including quarter past and quarter to the hour. We have begun to also learn about measures – length/height, weight and capacity.
Linked to our topic The Scented Garden we have been reading The Secret Garden by Frances Hodgson Burnett. The children have enjoyed listening about the characters, considering the settings and inventing their own magical stories.
As a class we have been learning about Helen Keller, famous for her work to help others. We have explored our senses and what happens if we don't have all of them. Some beautiful art work has been created through observational drawings of lilies and chrysanthemums. We used shading and pastels to create a sequence of images. In science we have been pizza growing our own pizza garden! We planted tomato seeds, rocket and chives and have been tracking their progress and growth each week. We are going to create our own pizzas with our 'school-grown' ingredients in the last week of this half term!
Our Super Learning Week began with all the children entering into Kirton Lane Airport with all their luggage and passports ready to jet off to their destinations. All classes then were assigned their own gate number after having been through Mrs Eccles at passport control and security at the door upon arrival by Mrs Middleton. All bags were checked and they all jetted off to their destinations.
This week Year 1 Jetted off to Brazil in which they learned about their language, culture and the country itself. They first started off by improving their measuring skills as later on in the week we made Banana Bread for our mini-carnival.
The next activity thar Year 1 did was learning about the Brazilian Culture. We looked at artwork that is famous in Brazil and we tried to recreate our own design using what we have learned. Take a look at our Brazilian Art effort below...
For preparation for our carnival both classes also made masks to wear while doing our dance. On Monday morning we had a visitor from Primary Workshops named T. Arthur-Stubbs. She taught our Year 1 and Year 2 classes a Brazilian dance which we later performed for the whole school in assembly on Friday afternoon. Take a look at what you think..
Year 2 have had a jam-packed Summer Two! This half term our topic has been 'Land Ahoy', with a focus on pirates. The children have particularly enjoying learning about the nasty antics of Captain Blackbeard and discovering all about famous pirate ships, as well as many explorers who changed the way our world looks today, including Christopher Columbus, Marco Polo and Captain James Cook. In science we have been investigating materials and we tested different materials which would be good to use to make our own pirate ship. We thought about how to make tests fair.
In maths we have been thinking about different units of measurements. When learning about time, we were comparing what we could do in a second, minute and hour as well as learning to read an analogue clock, which is tricky! We have also been learning about comparing and converting between measurements. Our favourite investigation was when we tested whether we could run 100m in 10.98 seconds like Usain Bolt. The closest we got was 57m!
There has been lots of small topics going on this half term too, the first being super learning week for cultural studies. Our focus was South America, notably Brazil. He created our own masks, had a carnival, learned some Samba dance moves and even made our own banana bread ready for our carnival celebration at the end of the week.
In DT we made our own pizzas using some ingredients which we began growing back in the spring term. With the help of Mrs Cleland and her green house we used our own-grown tomatoes, chives and basil as some of the toppings for our pizza. They looked and tasted delicious!!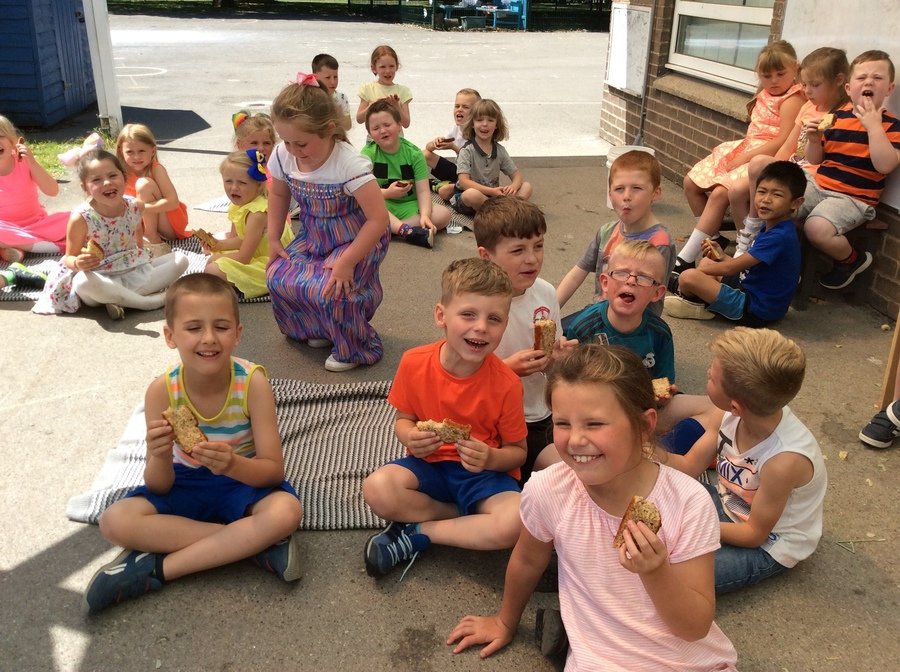 In the lead up to sports day, year 2 were thinking about how to stay healthy, particularly considering different forms of exercise, being hygienic and eating a balanced meal. Year 2 were amazing at sports day and were cheered on by their peers and families!
However, the best part of summer two so far has been our visit to Cleethorpes. Although it was cold, we had so much fun playing on the beach, making sandcastles and eating ice-creams! We even found 3 jellyfish on the beach!!